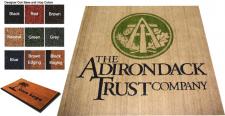 Make a good first impression with one of our custom logo floor mats. One of the first things any customer will notice when they enter your business is a floor mat. While at first they may take it for granted, there is far more than meets the eye. For example, a logo mat is far more than a place for customers to wipe their dirty feet. While they are a generous welcome curtsey, a custom logo floor mat also provides the opportunity to visually promote your brand to your customers while keeping your business looking clean and professional.
Let's face it, mats are a necessity for every operating business. They offer protection and safety for both your employees and customers by keeping floors clean and dry. And they can make life easier on your maintenance staff when keeping the building clean. Not to mention your customers thank you for promoting safety. Custom logo floor mats provide a professional touch to any business and show that you went the extra mile to ensure your customers feel comfortable in your building.
When looking for the right logo mat for your business, you should consider price and quality. That being said, look for a logo mat made with high quality materials and fabrics. Also consider longevity as well as attractiveness. After all, your mat must be able to withstand a lot of abuse, so don't waste your time with low quality products. Our custom logo floor mats are colorful and personalized to match your brand identify. And they are well made, attractive and will compliment any room décor.
Whether your customers know it or not, they are taking in everything they see, including your floor mats. Our custom logo mats will provide you with the opportunity to reinforce your brand while offering protection for your customers and floors.